M.Sc. Mikrosystemtechnik (de) (Master of Science)
Interdisciplinary work and research
Microsystems engineering is the engineering discipline with the broadest focus: elements from mathematics, physics, chemistry, electrical engineering and materials science form the cornerstones of exciting innovations.
Microsystems engineering - a versatile technology that industries can no longer do without
The products we deal with on a daily basis are becoming ever smaller, more powerful, smarter, more connected and more independent. Often, however, the sensors and systems that are in these everyday objects are so miniaturized that they are nearly invisible. That is precisely the reason they have taken a foothold in most industries.
A lot of the products and systems within such sectors as the automobile industry, medical services, communications and energy are unimaginable today without microsystems engineering, making your career as a microsystems engineer a versatile and exciting choice!
Your benefits as a Microsystems Engineering student:
Study at one of the world's largest and leading academic research centers in the field of microsystems engineering
With around 440 students and 22 professors, we offer an excellent student-teacher ratio for optimal supervisory support.
State-of-the-art equipment with a designated clean room: Here you will become familiar with working in this special laboratory environment.

The German taught Master of Science Mikrosystemtechnik program has been designed for students with a bachelor's degree in microsystems engineering or a closely related discipline. (Students having a bachelor's in Electronics, Mechatronics, Communication and Electronics, Instrumentation, Electrical, Mechanical Engineering, are kindly asked to apply for the English taught program MSc. Microsystems Engineering.) 
Prerequisites
Bachelor's degree in microsystems engineering, or in a closely related study field, previous knowledge in microsystems, mathematics, chemistry, physics, electronics, electrical and mechanical engineering and materials
B2 English language proficiency AND
C1 German language proficiency
Facts and Figures
Scope:
120 ECTS credit points
Standard program duration: 
4 semesters = 2 years
Language of instruction:
German and English (50/50%)

Intakes:

winter semester
(October) or summer semester (April)
Fees and cost
German and EU nationals


103 € to support the services offered by Studierendenwerk (SWFR)
70 € administrative fee
  7 € to support the student council

Altogether 180 € per semester to be paid to the university.



Non-EU nationals


1500 € tuition fees
    103 € to support the services offered by Studierendenwerk (SWFR)
    70 € administrative fee
      7 € to support the student council

Altogether 1680 € per semester to be paid to the university.

The living cost in Freiburg amounts to approximately 700 - 800 € per month.
Application
Application:

Please register in our online application portal, enter your data and upload the following documents:

an officially certified copy of your undergraduate diploma (bachelors or equivalent),
an officially certified copy of your undergraduate transcript of records, showing all courses and credits taken and all grades/marks obtained as well as the final/current overall average grade,
if applicable: letter or certificate issued by your university, stating one of the following: registration, submission or completion of your final thesis, or expected graduation date (see below),
your English proficiency test result (see below),

your German proficiency test result,

a statement of purpose in German,
your Curriculum Vitae or résumé,
APS certificate (only for applicants who have studied in China, India or Vietnam)
New! From now on, it will not be possible anymore, to apply without uploading an APS certificate. The certificate cannot be submitted after the application deadline.



Undergraduate diploma and transcript of records: If you have completed your studies, but not yet received the bachelors diploma, the transcript of records has to show the total number of credit points, final grade and the remark "degree conferred" or "degree awarded". If not, please submit an additional confirmation letter from the university stating the total number of credit points, the final grade and that the degree has been conferred.
If you have not yet completed your undergraduate studies, please submit letter or certificate issued by your university, stating one of the following: registration, submission or completion of your final thesis, or expected graduation date.

English language proficiency:
The following English language certificates are accepted: Academic IELTS (minimum 5,5), TOEFL (minimum internet-based score 72), Cambridge FCE, CAE or CPE, Pearson PTE Academic (min. 59), telc University, TOEIC, OOPT. Only native speakers from the USA, the UK, Australia, New Zealand and Canada or applicants who completed their bachelor's program in one of these countries are exempted from submitting one of these English language certificates.

German language proficiency:
The following German language certificates are accepted: DSH 2 or 3, TestDaF 4 or 5, Goethe-Zertifikat C2, DSD II, Feststellungsprüfung, telc, German Abitur.

Please note: Incomplete applications will not be considered. Certificates issued in a language other than German or English must be accompanied with a translation by an authorized translator.

Admissions:




 

The admissions committee will verify whether you fulfill the special prerequisites specified in the admissions regulations. For further information please contact the program coordinator (see contact persons).

Please note: University admission requirements may be subject to change prior to the start of the application period.


Application periods:



April 1 - May 31 (non-EU nationals), April 1 - July 15 (EU nationals) for the winter semester
November 1- December 15 (non-EU nationals), November 1- January 15 (EU nationals) for the summer semester

 Faculty affiliation:
Curriculum
A new curriculum has been introduced in the winter semester 2021/22: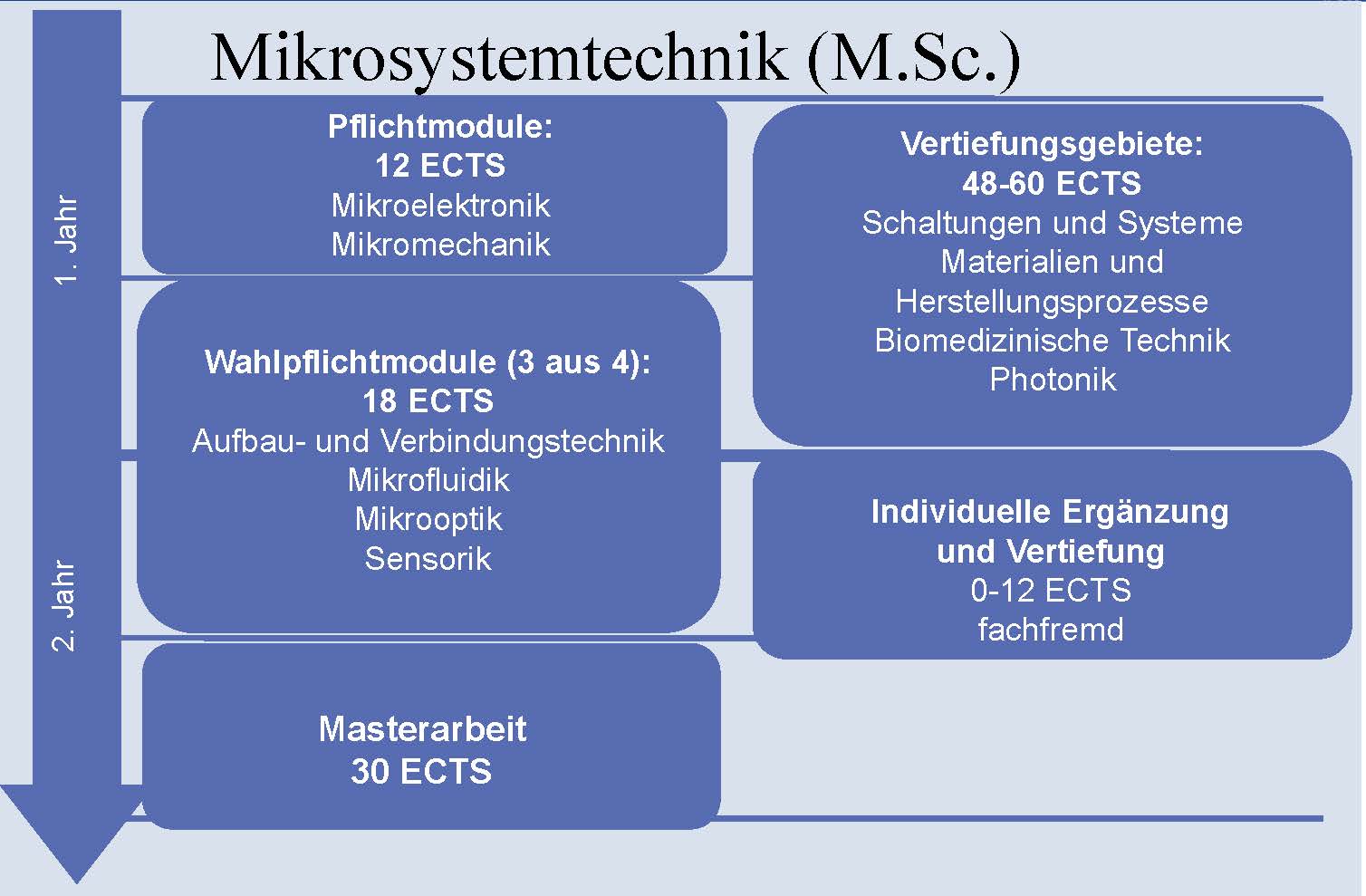 Apart from the master thesis, there will be only two compulsory modules in the new curriculum: Mikroelektronik and Mikromechanik. The previous compulsory modules Aufbau- und Verbindungstechnik, Mikrofluidik, Mikrooptik and Sensorik will become compulsory elective modules, three of which will be chosen.

When starting the program in the winter semester, all compulsory and compulsory elective modules can be completed in the first semester: 
Mikroelektronik
Mikromechanik
Aufbau- und Verbindungstechnik
Mikrofluidik
Mikrooptik
Sensorik 
In the second to fourth semester, the concentration modules are taken. The previous eight concentration areas will be reduced to four; the number of concentration modules offered will remain the same. The Personal Profile will no longer be offered. Instead, there will be a Customized Course Selection area, in which elective modules from other disciplines and/or a language course can be completed:


Circuits and Systems
Biomedical Engineering
Materials and Fabrication
Photonics
Customized Course Selection

In the fourth semester students will work on their Master's thesis. If the Master's thesis topic is chosen from the same area that a student chose as their concentration area, it will be mentioned as a specialization in the degree certificate.
Please click here for a tabular representation of the study plan.
Organizational note for students of the previous exam regulations (PO 2018):
In the winter semester 2021/22, a new version of the examination regulations has been introduced and all students who did not explicitly object by September 15, 2021 (legally latest deadline: October 31, 2021) have beenn automatically transferred to this new examination regulation PO 2021. Students  enrolled in the M.Sc. MST in the summer semester 2021 have been informed about this change via e-mail on July 21, 2021 and have received the corresponding objection form as an e-mail attachment as well as information material comparing the examination regulations.
The changes have different implications for individual students. If you have any questions, please contact the academic advisor.
Students of the PO 2018 version can complete their studies until 30 September 2024 (cut-off date) at the latest. The model study plan / curriculum for the PO 2018 exam regulations can be found on the overview page Module Handbooks and Exam Regulations. 
Possible occupational fields
Graduates of the Master's program in Mikrosystemtechnik can either apply for a PhD position or work as an engineer in a company. Potential employers are for example companies working in fields including electronics as well as mechanical, automotive, or biomedical engineering.
Syllabus and Examination Regulations
Please note: Only the latest versions are listed here. Older versions can be found in Module Handbooks and Exam Regulations under Studies and Teaching.
Check out our dates and deadlines for course registration or exam registration.
Contact Persons
Do you have any questions concerning the application and admission procedure? Please contact the program coordinator:

For questions pertaining to the curriculum, please contact the academic advisors:
Dr. Jochen Kieninger

Georges-Köhler-Allee 103
Room 103 01 049
Phone:  +49 761 203 7265

Dr. Oswald Prucker
Georges-Köhler-Allee 103
Raum: 103 00 105
Phone:  +49 761 203-7164
Particularities about this study program
Practical Cleanroom Experience
Cleanrooms are crucial for the design and production of microsystems, since the presence of even one tiny dust particle can destroy such a system. Cleanrooms are expensive to maintain and working in such a lab requires special skills. All of our Master students will participate in a cleanroom lab and may use the cleanroom during their Master thesis project (if necessary), thereby also acquiring important skills needed for working in a researcher or in a company.
A Mentor for each Student
Each professor is in charge of a number of students whom s/he mentors. These mentors help you to organize your studies and are ready to answer your questions about studying abroad, finding a job, and more.
Smart, Micro, Green
Smart – stands for robots that act independently, for computers that learn to interpret images or algorithms that become faster and smarter. Simply put, smart stands for computer science.
Micro – is meant literally here. The tiniest technical systems emerge that inconspicuously take on complex tasks in everyday life, medicine and industry. Without even knowing it, you are constantly dealing with microsystems. They make our lives healthier, safer, more comfortable, more versatile and, to say the least, easier.
Green – Freiburg is known worldwide for being the Green City. Since 2015, the Faculty of Engineering has been active from an engineering perspective with its own department for sustainability research. How can renewable energy be generated, fed into the grid and stored? How do we develop materials and systems that are produced and used in an energy- and resource-efficient way and that can adapt optimally to difficult environmental conditions or disasters?
Studying engineering in Freiburg always means that you benefit from all three areas of research, no matter which area you choose. Smart, micro and green technologies are becoming more and more in demand - acquire the necessary competencies to solve the social and technical questions of the future as engineers and computer scientists!
Further Information
Website of the Department of Microsystems Engineering
Overview with some important (administrative) informations for new students