Microsystems Engineering (Bachelor of Science)
What do airbags, smartphones, a personal I.D. card and modern prostheses and implants have in common? They all contain microsystems, meaning tiny microcomponents that are 100 times finer than a human hair. Without knowing it, you are constantly coming into contact with microsystems engineering. It makes our lives, healthier, happier, more secure, comfortable, more varied and, not to mention, easier.
Small technology with huge potential
Microsystems engineering is the engineering discipline with the broadest focus: elements from mathematics, physics, chemistry, electrical engineering and materials science form the cornerstones of exciting innovations. It comes into play at every corner where intelligent solutions are required:
Medicine and diagnostics;
Automobile and mobility;
Energy and sustainability; and
Communications and information systems

Engineers for the tiniest of systems
We can help you obtain the necessary skills to develop these versatile systems for applications of today and tomorrow. For a bachelor's degree in Microsystems Engineering in Freiburg, you should:
have fun with technology
bring along a good dose of curiosity
prefer solving tricky problems
like working in a team.


Prerequisites
University entrance qualification (e.g. high school diploma or Abitur)
Very good German language skills (level C1 of the European reference framework required for application already)
Participation in an orientation test (i.e. http://www.osa.uni-freiburg.de/mikrosystemtechnik)
For a successful microsystems engineering degree and later successful career start in research or business, good prerequisites include having fun with technology, mathematics and solving problems.
Facts and Figures
Total Credits:
180 ECTS points
Standard Length of Studies:
6 semester
resp. 3 years
Language of Instruction:

German based, with only some advanced courses in English

Start of Courses:

Winter semester
(October)
Fees and Costs
German and European nationals

84 € fee for the Studierendenwerk (student organization)
70 € administrative fees
7 € student union fee

Total: A 161 € fee per semester to be paid to the University.

Non-EU nationals

1500 € tuition
84 € fee for the Studierendenwerk (student organization)
70€ administrative fees
7€ student union fee

Total: A 1661 € fee per semester to be paid to the University.
Application
Is this course of study a good fit?

Take our online orientation test.

 

Application:

Central online application

Admissions:





 

First semester: without special admission requirements (admission-free)

Higher semesters: with special admission requirements according to the admission regulations

Application Deadline:





First semester: June 10th – October 6th

Higher semesters: June 10th – October 6th (winter semester), December 1st – April 6th (summer semester)

Faculty affiliation:

Faculty of Engineering
Study material and curriculum
In order to design and manufacture microsystems, you need solid knowledge in sciences and technology. For that reason, the main focus for the first two semesters is on mathematics, chemistry and physics, followed by electrical engineering and material sciences.
In order to recognize why these fundamentals are necessary, there are application-related courses right from the start, such as the "System Design Project", in which the first-year students design a robot. The curriculum also includes two clean room lab courses where students learn the processes involved in making microchips.
The following table provides an overview of how the individual study areas are distributed over the 6 semesters (the standard period of study):
[in German only, due to German based study program]
Semester 1

Semester 2

Semester 3

Semester 4

Semester 5

Semester 6

Mathematik
(Grundlagen Analysis und Algebra, DGL)

Materialwissenschaften

(Werkstoffe, Materialien, Halbleiter etc.)

Physik
(Experimentalphysik, Festkörperphysik)

MST Vertiefung
(Technische Mechanik, Konstruktion, Simulation, Anwendungen)

Chemie
(allg. und anorganisch, organisch, physik.)

Grundlagen MST
(Technologien, Prozesse, Bauelemente)

Wahlbereich MST
(Schaltungen, Produktion, Anwendungsbereich Biologie, fachfremdes Modul etc.)

Bachelor-Arbeit

 

Elektrotechnik

(E-Technik, Elektronik, Mess-, Regelungstechnik, Systemtheorie)

 

Praxis 
(System Design Projekt, Reinraumlaborkurse)

Berufsfeld orientierte Kompetenzen (BOK) 
= Kurse in Fächerübergreifenden Schlüsselqualifikationen
An examplary study plan/curriculum for B.Sc. Mikrosystems Engineering PO 2018 (PDF) offers more detailed information.


Please note this list of courses from other subjects, where one course might be chosen as an elective within the MSE Bachelor program.
[both documents in German only, due to German based study program]
Module handbook and exam regulations
Please note: Only the latest version is listed here. Older versions can be found in Module Handbooks and Exam Regulations under Studies and Teaching.
Module handbook

 (online version) (Please note, loading might take some time)

Detailed PDF version of the module handbook (as of April 2021) [in German only]
(there may be minor discrepancies in individual module elements between the online version and the PDF version, which is updated only once a semester; in this case, the online version applies)

Exam regulations (sorry, no deep link available) 


The web pages of the legal department now contain the new examination regulations.
The latest version applies to you, i.e. the one without further explanation/restriction in brackets.
Information about the option of an elective course from a different subject:
The selectable courses of the individual subjects are not listed in detail in the module handbook in HISinOne.
Please use the PDF list provided in "Study material and curriculum" to get an overview; then look up the details for the specific course (like times and rooms) in the course catalog: 
https://campus.uni-freiburg.de, go to "Studies offered" and "Show university course catalog".
Check out our dates and deadlines for course registration or exam registration.
And afterwards – Our Master degree programs
The German taught Master of Science Mikrosystemtechnik program has been designed for students with a bachelor's degree in microsystems engineering or a closely related discipline.
The English taught Master degree program in Microsystems Engineering has been designed for German and international graduates holding a bachelor's degree in electronics, mechatronics, (bio-)medical engineering or any other related engineering discipline.
Possible occupational fields
The job description is just as diverse as the application areas. Microsystems' engineers work, for instance, in sectors such as:
Automotive and supply industry;
Electronics and semiconductor industry;
Medical engineering;
Machine building industry; and
wherever applications need to be accommodated in the smallest of spaces.
Academic advising
Questions about your course of study? Looking to be informed personally about the Bachelor in Microsystems Engineering? Contact us directly:
For high school students:

Dr. Jochen Kieninger

Georges-Köhler-Allee 103
Room 103 01 049
Phone:  +49 761 203 7265

 

For external students and students wanting to change their study program:

Dr. Oswald Prucker
Georges-Köhler-Allee 103
Room: 103 00 105
Phone.: +49 761 203-7164
E-Mail: studienberatung@imtek.uni-freiburg.de
What our students are saying
The following testimonials about this course of study come from graduate surveys:
"The wide range of sciences (physics, chemistry, biology/medicine) as well as the different internships offer a good preparation for engineering professions."
"The opportunity to complete a clean room lab course in the first semester is unique. You gain different insights into the research areas, the supervision is good and the faculty's equipment too."
There is a particular emphasis on the range of modern learning resources.
Particularities about this course of study
Practical experience in the clean room – ideal for starting a career
Clean rooms are a basic requirement for the development and production of very small systems, because even one grain of dust can make the system unusable. Clean rooms are very expensive to maintain and working in such a laboratory requires special skills. Even as a bachelor student, you will have the opportunity to gain initial experience in this special laboratory environment. Ideal conditions to jumpstart your career in research and development.
Mentor: A guide throughout your entire studies
At the beginning of the degree program, every student is assigned a professor as a mentor. The mentor helps to organize the student's course of study and is available for questions. Once a semester, every student should visit his or her mentor. Whether it's about going abroad, applying for the master's degree or looking for a job, the mentors are happy to help.
The system design project with robot competition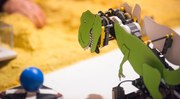 As part of the 'System Design Project', the Faculty of Engineering at the University of Freiburg organizes a robotic competition every year. In this competition first semester students compete for the title of the fastest, most innovative and most creative robot. Usually groups of four Students work together, but for WS20/21 an easier task will have to be solved by each single student. Unfortunately, due to the COVID-19 circumstances, there will be no joint competition and students will be evaluated separately.
Equipped with a nearly 350 € Lego robot kit, the students compete against each other in the task to build a vehicle that independently runs on a course unknown to the participants. In the run-up only the degree of difficulty of the route, such as track length and gradients, is known.
In WS19/20, the participants had to overcome the following challenge: their robots should complete a course as quickly as possible. They had to stop in front of a barrier where they were loaded with a ball, which had to be placed at the end of the train in a container. In addition, the robots were to turn in front of obstacles or push them out of the way.
Smart, Micro, Green – Engineering in Freiburg
Smart – stands for robots that act independently, for computers that learn to interpret images or algorithms that become faster and smarter. Simply put, smart stands for computer science.
Micro – is meant literally here. The tiniest technical systems emerge that inconspicuously take on complex tasks in everyday life, medicine and industry. Without even knowing it, you are constantly dealing with microsystems. They make our lives healthier, safer, more comfortable, more versatile and, to say the least, easier.
Green – Freiburg is known worldwide for being the Green City. Since 2015, the Faculty of Engineering has been active from an engineering perspective with its own department for sustainability research. How can renewable energy be generated, fed into the grid and stored? How do we develop materials and systems that are produced and used in an energy- and resource-efficient way and that can adapt optimally to difficult environmental conditions or disasters?
Studying engineering in Freiburg always means that you benefit from all three areas of research, no matter which area you choose. Smart, micro and green technologies are becoming more and more in demand - acquire the necessary competencies to solve the social and technical questions of the future as engineers and computer scientists!
Video gallery
Further information