Why study at the Faculty of Engineering?
There are many good reasons why you should study Computer Science or Engineering at the Faculty of Engineering at the University of Freiburg. We have compiled the top 10 most important reasons for you – take a look!
Why study at the Faculty of Engineering?
Here you will find 10 good reasons!
Study at one of the most powerful universities in Germany
We regularly receive numerous awards for research and teaching. The latest research findings directly flow into teaching.
3rd place in Germany: QS World University Ranking: Sustainability 2023.
5th place in Germany: Academic Ranking of World Universities (ARWU), also known as the Shanghai-Ranking.
10th place in Germany: Times Higher Education World University Ranking 2023.
Benefit from a balanced mix of theory and practice
Within our departments (Department of Microsystems Engineering, Department of Sustainable Systems Engineering and Department of Computer Science) as well as companies and research institutions, you will have the opportunity to gain practical experience and participate in current research during your studies.
Benefit from first-class teaching
You will receive excellent support from the very beginning. In addition to the joint lectures, our students benefit from working in small groups and are optimally supervised by our professors and research assistants. One example is the cleanroom internship, where a group consists of only four students!
In addition, a comprehensive range of services is available to you with contact persons for all questions concerning your studies, from the beginning to the end of your studies.
Learn practical work in state-of-the-art laboratories
The engineering curriculum includes a cleanroom lab course where you gain hands-on experience as a student and learn the processes involved in making microchips.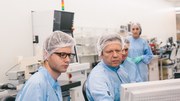 Study first, decide later
The first semester is identical in the three bachelor's engineering programmes Microsystems Engineering, Embedded Systems Engineering and Sustainable Systems Engineering.
This means you can get to know all three specialisations, then easily switch and decide on a different focus.
You do not lose a semester and do not extend your study time!
Study at a modern campus
All on our campus is within walking distance. It is only a few minutes walk from the student dormitories to class.
There is an on-site library where you will receive personal and professional advice from our staff. There are library tours and training sessions in German and English at the beginning of each semester.
There is an on-site cafeteria.
After class, the spacious lawns between the buildings are a perfect place to meet each other and / or to play frisbee, volleyball, cricket, football or basketball.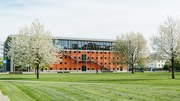 Digital Campus Tour: https://www.osa.uni-freiburg.de/campustour/technische-fakultaet/
Participate in the System-Design-Project
To start your studies, you will take part in the system design project in the first semester. During this practical course, you will learn the essentials of a system design on a macroscopic system as well as the realization and subsequent optimization based on this. You will use all the essential components that are also found in a microsystem: Sensors, actuators, mechanics, information processing and control.
This practical course results in a robot competition that is held every year at the Faculty of Engineering. The students compete in interdisciplinary groups in the categories "fastest robot", "best designed robot" and "most innovative robot".
Equipped with the Lego robot construction kit "LEGO MINDSTORMS", the participants build a vehicle that has to independently navigate an unknown course and complete various tasks.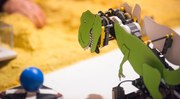 Make international contacts
With 36% of our students coming from over 40 countries, you can build an international network here on site. You will get to know students from all over the world and make valuable contacts.
Have excellent career opportunities
Research and business is looking for you! Benefit from our excellent contacts to regional and international companies and get exciting internships and jobs at an early stage.
Our graduates are sought-after engineers and computer scientists in industry and research worldwide. Whether in the USA, in Asia, in Europe or here in the region - we are proud of our alumni, who are involved in a wide variety of professional fields ranging from medical technology, the automotive industry, software companies and many more.
Starting your own business? Here, too, we support our graduates and are happy about many successful start-ups.
Study in Freiburg - one of the most popular cities in Germany
Enjoy the high quality of life in close proximity to the Black Forest, Switzerland and France.
Due to its high quality of life, Freiburg was voted one of the top 3 best cities in the world by the travel guide Lonely Planet on its "Best-in-Travel List".
Ready?
Then check out which degree program suits you best!
Smart, micro, green:
Studying computer science or engineering in Freiburg always means that you will benefit from all three research areas, no matter which degree program you choose. You will acquire the necessary skills to solve the social and technical challenges of the future as engineers and computer scientists!
Microsystems, Embedded Systems or Sustainable Systems - which engineering degree program should I choose?
The Online Studychoice Assistant (OSA) of the University of Freiburg can help you with this question!
Discover the differences and similarities of the bachelor's degree programs
Microsystems (MST)

Embedded Systems Engineering (ESE)

Sustainable Systems Engineering (SSE)
and match your expectations of these degree programs:
https://www.osa.uni-freiburg.de/ingenieurwissenschaften/
Computer Science - is it the right course for me?
The Online Studychoice Assistant (OSA) of the University of Freiburg can help you with this question!
Here you can check whether the Computer Science degree program suits you:
https://www.osa.uni-freiburg.de/informatik/
Any questions?
We will be happy to help you:

If you have any questions, please do not hesitate to contact our student counseling.