Embedded Systems Engineering (Master of Science)
Embedded systems are among the key technologies. Whether in medical technology, the automotive industry, in aerospace or in the telecommunications, media and entertainment technology - embedded systems play a central role in the latest technological developments. The systems that "feel" with sensors, "think" through intelligent programming, and "act" on signals and actuators perform a wide variety of tasks.
Connection between engineering and computer science
In the master's program, we provide you with versatile know-how in computer science and engineering. For your future as a research scientist or project leader in a company, you are well equipped to understand and bring together the "language" of both worlds of technology.  
You will gain knowledge about the design of microelectronic, micro-mechanic and software-based components as well as their integration into complete systems. An extensive selection of courses allows you to set an individual focus or specialize in one of the following areas:
Artificial Intelligence

Cyber-Physical Systems

Circuits and Systems

Materials and Fabrication

Biomedical Engineering

Photonics
Prerequisites
Bachelor's degree in mechatronics, information technology, electronics or electrical engineering, computer science or similar. Previous knowledge in mathematics, computer science, physics and electrical engineering
English language proficiency level C1 (to find out which language certificates are excepted, please go to Application / English language proficiency).
Facts and Figures
| | |
| --- | --- |
| Scope: | 120 ECTS credit points |
| Standard program duration:  | 4 semesters = 2 years |
| Language of instruction: | English |
| Intakes: | winter semester (October) or summer semester (April) |
Fees and Cost
German and EU nationals


103 € to support the services offered by Studierendenwerk (SWFR)
70 € administrative fee
  7 € to support the student council

Altogether 180 € per semester to be paid to the university.



Non-EU nationals


1500 € tuition fees
    103 € to support the services offered by Studierendenwerk (SWFR)
    70 € administrative fee
      7 € to support the student council

Altogether 1680 € per semester to be paid to the university.

The living cost in Freiburg amounts to approximately 800 - 900 € per month.
Application
Application:

Applications will be done electronically. These are the documents needed:

original undergraduate diploma or certified copy (bachelors or equivalent) - if already available,
original undergraduate transcript of records or certified copy, showing all courses and credits taken and all grades/marks obtained as well as the final/current overall average grade,
if applicable: letter or certificate issued by your university, stating one of the following: registration, submission or completion of your final thesis, or expected graduation date (see below),
your English proficiency test result (see below),

your Curriculum Vitae or résumé,
APS certificate (only for applicants who have studied in China, India or Vietnam).
New! From now on, it will not be possible anymore, to apply without uploading an APS certificate. The certificate cannot be submitted after the application deadline.


Optional documents that can be useful to submit:

letter of motivation
letter of recommendation
description of those subjects of your bachelor's degree that covered computer science (if your background is in electronics) or electronics (if your background is in computer science)
GRE score (all three sections are important)
certificate about your class rank
certificate about the average grade of your class
University entrance exam result from your home country (if applicable)
GATE result (India)



Undergraduate diploma and transcript of records: If you have completed your studies, but not yet received the bachelors diploma, the transcript of records has to show the total number of credit points, final grade and the remark "degree conferred" or "degree awarded". If not, please submit an additional confirmation letter from the university stating the total number of credit points, the final grade and that the degree has been conferred.
If you have not yet completed your undergraduate studies, please submit a letter or certificate issued by your university, stating one of the following: registration, submission or completion of your final thesis, or expected graduation date.

English language proficiency:
The following English language certificates are accepted: Academic IELTS (minimum 7.0), TOEFL (minimum internet-based score 95), Cambridge CAE or CPE, Pearson PTE Academic (min. 76), telc University, TOEIC, OOPT. Only native speakers from the USA, the UK, Australia, New Zealand and Canada are exempted from submitting one of these English language certificates. A confirmation that the medium of instruction at your university was English is not sufficient.

Please note: Incomplete applications will not be considered. Certificates issued in a language other than German or English must be accompanied with a translation by an authorized translator.

Due to the fact that applications of various programs are administered through the HISinOne online application portal, it does not always indicate the specifics of the application for this specific program. Therefore, if you are unsure, you can follow the instructions for the online application.

Admissions:




 

The admissions committee will verify whether you fulfill the special prerequisites outlined in the admissions regulations. This is a courtesy translation of the admission regulations.

Please note: University admission requirements may be subject to change prior to the start of the application period.


Application periods:



April 1 - May 15 (non-EU nationals), April 1 - July 15 (EU nationals) for the winter semester
November 1 - December 15 (non-EU nationals), November 1 - January 15 (EU nationals) for the summer semester

 Faculty affiliation:
Curriculum
Students can compile their own personal skill profile by either selecting a wide range of different courses from either Computer Science or Microsystems Engineering to broaden their expertise. Or they can choose to focus on a specialization in either one of the Computer Science areas (Artificial Intelligence or Cyber-Physical Systems) or one of the MSE concentrations (Circuits and Systems, Materials and Fabrication, Biomedical Engineering and Photonics).
The course structure is quite versatile and the exam regulations only provide the framework, which students fill with individually chosen lectures, seminars and other courses.
There are 4 compulsory areas where students are expected to complete courses with at least 18 ECTS credits in each area:
2 areas cover essential courses for the topic of Embedded Systems divided in Computer Science respectively Microsystems Engineering; 2 more areas contain specialization and concentration courses in both the Elective area of Computer Science as well as MSE concentration areas. The remaining 18 ECTS credits can be divided up as the students wish, by either adding more courses in one of the 4 areas mentioned above or completing some courses in the Customized Course Selection. The  program concludes with a master's thesis.
The following graphic summarizes the structure: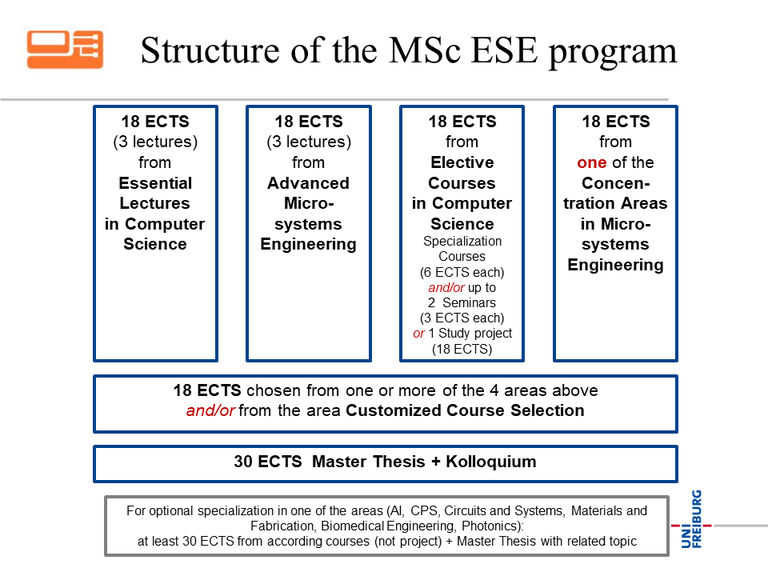 Students who want to obtain a Master of Science degree in Embedded Systems Engineering with a specialization in one of the areas, have to choose courses amounting to at least 30 ECTS credits as well as the topic of their master thesis from the respective field.
For Cyber-Physical Systems (CPS), the related courses are listed here:
Lectures Specialization CPS - Vorlesungen Spezialisierung CPS (PDF)
For Artificial Intelligence (AI), the related courses are listed here:
Lectures Specialization AI - Vorlesungen Spezialisierung KI (PDF)
For a specialization in one of the MSE areas (Circuits and Systems, Materials and Fabrication, Biomedical Engineering or Photonics), students can choose from the modules assigned to the respective area. 
---
Organizational note for students of the previous exam regulations (PO 2012):
In the winter semester 2021/22, a new examination regulation has been introduced and all students who did not explicitly object by September 15, 2021 (legally latest deadline: October 31, 2021) have been automatically transferred to this new examination regulation PO 2021. For interested students we offer some information material comparing the examination regulations (document updated on April 12, 2022 with further explanations regarding Customized Course Selection).
The changes have different implications for individual students. If you have any questions, please contact the academic advisor.
Students of the PO 2012 version can complete their studies until 30 September 2024 (cut-off date) at the latest. The model study plan / curriculum for the PO 2012 exam regulations can be found on the overview page Module Handbooks and Exam Regulations. 
Possible occupational fields
Graduates of the Master's program in Embedded Systems Engineering can either apply for a PhD position or work as an engineer in a company. Potential employers are companies from the following fields:
Automotive industry
Bio- and medical engineering (e.g. prosthetics or implants)
Automation
Energy
Communication
Security
Multimedia
Syllabus and Examination Regulations
Please note: Only the latest versions are listed here. Older versions can be found in Module Handbooks and Exam Regulations under Studies and Teaching.
Please check out our dates and deadlines for course registration or exam registration.
Contact Persons
Do you have any questions concerning the application and admission procedure? Please contact the program coordinator:

For questions pertaining to the curriculum, please contact the academic advisors:
Testimonial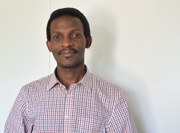 "I have always been fascinated by smart systems. Freiburg University's ESE program, offered by it's Computer Science and Microsystems Engineering departments was the perfect fit for me. It's broad range of modules helped me tailor my specialisation courses to fit my areas of interest. The mentorship and guidance by experts and highly skilled staff greatly enriched my study experience. This program boasts strong ties to industry and research institutes and has highly sought after graduates."
Titus Busulwa
Particularities about this study program
Numerous lab courses
The students can choose from a big variety of lab courses within the MSE Concentration areas or in the Customized Course Selection (in the area of Computer Science), thus acquiring important practical skills for their future career.
 
A Mentor for each Student
Each professor is in charge of a number of students whom s/he mentors. These mentors help you to organize your studies and are ready to answer your questions about studying abroad, finding a job, and more. 
Certification of English Medium of Instruction Competencies
The instructors of the MSc. program have been certified for instruction in English. 

Smart, Micro, Green – Engineering in Freiburg
Green - Freiburg is renowned worldwide as a Green City. Since 2015, the Faculty of Engineering has had its own Department of Sustainable Systems Engineering. The researchers of this department build systems that hardly need any energy, have a long life cycle, and adapt themselves easily to difficult environmental conditions.

Smart - stands for autonomously acting robots, computers that learn to interpret pictures, or algorithms that become more and more intelligent and fast. In summary: At the Faculty of Engineering, smart stands for computer science.

Micro - Our researchers design tiny technical systems that handle complex tasks needed in medicine or in production plants. Nowadays each of us uses such systems on a daily basis - often without even noticing. Developing microsystems is an exciting and challenging job - not only for students but also for companies. Our study programs are the best preparation for a career in this field.

Studying engineering in Freiburg means that you will benefit from these three research areas, no matter which study field you choose. Smart, micro and green ideas will increasingly be needed. We offer to teach you the skills needed for developing these kinds of systems.
Further Information