Embedded Systems Engineering (Bachelor of Science)
This degree program combines microsystems engineering with computer science. The study program is aimed at all those who have a university entrance qualification (e.g. Abitur) and who are interested in both engineering sciences as well as computer science.
Good to know
Is this degree program right for me?
You are exactly right in this degree program if you answer "yes" to most of the following statements:
I enjoy technology
I want to learn programming
I am interested in circuits and computer hardware
I am curious and like solving  tricky problems
I enjoy working in a team
I enjoy working in an interdisciplinary environment

With our Online Study Choice Assistant OSA Engineering Sciences you can learn more about the study program from teachers and students and match your expectations of the course: https://www.osa.uni-freiburg.de/ingenieurwissenschaften/
Why should I choose the bachelor's degree program in embedded systems engineering?
Enjoy cross-faculty activities such as the System Design Project
Mentoring program for female students by female students
Professorial mentoring program for all students
Excellent career opportunities
Very good basis for subsequent master's studies
You will find more good reasons for studying with us here.
What are possible fields in industry?
Smart Health, Smart Home, Industry 4.0 and Internet of Things (IoT) - without embedded systems, intelligent technologies and products for the various application areas would not exist. Embedded Systems are a key technology of the 21st century. Without embedded systems there would be no devices like smartphones, tablets or self-driving cars.
Embedded systems engineers who combine the world of microsystems engineering with computer science are in high demand and well paid because they develop intelligent solutions in many fields and play a decisive role in current and future technologies.
Embedded Systems Engineering is a cross-sectional technology that no industry can do without. Those who decide to study Embedded Systems Engineering have the best career opportunities in:
Medical technology,
Electronics and semiconductor industry,
Automotive and supplier industry
Aerospace technology
Mechanical engineering,
whereever many applications have to be accomodated in the smallest possible space.
Study Course Bachelor Embedded Systems Engineering (B.Sc.)
Prerequisites
University entrance qualification (i.e. high school diploma/Abitur)
Very good German language skills (level C1 of the European reference framework required for application already)
Participation in an orientation test (i.e. https://www.osa.uni-freiburg.de/ingenieurwissenschaften )
Enjoying technology, math and solving problems are good prerequisites for a successful study program and for a good start in research or business.
Facts and Figures
Total Credits:
180 ECTS points
Standard Length of Studies:
6 semester
resp. 3 years
Language

German based, with only some advanced courses in English

Studienbeginn:

Winter semester
(October - March)
Fees and Costs
German and European nationals

103 € fee for the Studierendenwerk (student organization)
70 € administrative fees
7 € student union fee

Total: A 180 € fee per semester to be paid to the University.

Non-EU nationals

1500 € tuition
103 € fee for the Studierendenwerk (student organization)
70 € administrative fees
7 € student union fee

Total: A 1680 € fee per semester to be paid to the University.
Application
Is this course of study a good fit?

Take our online orientation test.

 

Application:

Central online application

Admissions:





 

First semester: without special admission requirements (admission-free)

Higher semesters: with special admission requirements according to the admission regulations

Application Deadline:





First semester: June 10th – October 6th

Higher semesters: June 10th – October 6th (winter semester), December 1st – April 6th (summer semester)

Faculty designation:

Faculty of Engineering
Study material and curriculum
During your studies in Embedded Systems Engineering you will learn about methods and processes in Computer Science, mathematicals fundamentals and technical aspects of Microsystems Engineering.
The following table provides an overview of how the individual study areas are distributed over the six semesters of the standard period of study:
[in German only, due to German based study program]
Semester 1

Semester 2

Semester 3

Semester 4

Semester 5

Semester 6

Mathematik
(Grundlagen der Analysis und Algebra, Differentialgleichungen)           

 

Wahlveranstaltungen im
ESE-Vertiefungsbereich
(Weiterführende Vorlesungen aus Informatik und/oder Mikrosystemtechnik)

Grundlagen der Informatik
(Programmierung, Technische Informatik, Betriebssysteme, Algorithmen und Datenstrukturen)

Grundlagen der (Mikro)Systemtechnik
(E-Technik, MST-Bauelemente, Messtechnik, Regelungstechnik)

Praxis
(System Design Projekt, das ESE Praktikum und Projekt, Praktika in Messtechnik, E-Technik)

Bachelor-Arbeit

Physik
(Experimentalphysik im Bereich Mechanik, Optik, Elektrizität)

Eingebettete Systeme
(Einführende Themen und Grundlagen, praktische Anwendungen in Praktikum und Projekt)


Berufsfeld orientierte Kompetenzen (BOK)
(Kurse in fächerübergreifenden Soft Skills am Zentrum für Schlüsselqualifikationen der Universität Freiburg)
An examplary study plan/curriculum for B.Sc. Embedded Systems Engineering PO 2018 (PDF) offers more detailed information.
Please note this list of courses from other subjects, where one course might be chosen as an elective within the ESE Bachelor program.
[both documents in German only, due to German based study program]
Module handbook and exam regulations
Please note: Only the latest versions are listed here. Older versions can be found in Module Handbooks and Exam Regulations under Studies and Teaching.
Information about the option of an elective course from a different subject:
The selectable courses of the individual subjects are not listed in detail in the module handbook in HISinOne. Please use the PDF list provided in "Study material and curriculum" to get an overview; then look up the details for the specific course (like times and rooms) in the course catalog: 
https://campus.uni-freiburg.de, go to "Studies offered" and "Show university course catalog".
Please check out our dates and deadlines for course registration or exam registration.
And afterwards –  Our Master degree program
In the master's program, we provide you with versatile know-how in computer science and engineering. For your future as a research scientist or project leader in a company, you are well equipped to understand and bring together the "language" of both worlds of technology. 
Possible occupational fields
After completing your bachelor's degree, you will have a wide range of career opportunities from which to choose (depending on your specialization, interest, and perhaps talent):
Vehicle / automotive industry
Bio and medical technology (for example prosthetics or implants)
Automation
Energy industry
Communications
Safety and Security
Multimedia enterprises
etc.


Graduates in embedded systems are in great demand on the job market.
Academic advising
Questions about your course of study? Looking to be informed personally about the Bachelor in Embedded Systems Engineering? Contact us directly:
Special Features about this Study Course
Practical experience in the clean room – ideal for starting a career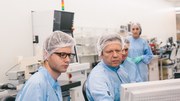 Clean rooms are a basic requirement for the development and production of very small systems, because even one grain of dust can make the system unusable. Clean rooms are very expensive to maintain and working in such a laboratory requires special skills. Even as a bachelor student, you will have the opportunity to gain initial experience in this special laboratory environment. Ideal conditions to jumpstart your career in research and development.
Mentor: A guide throughout your entire studies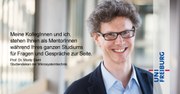 At the beginning of the degree program, every student is assigned a professor as a mentor. The mentor helps to organize the student's course of study and is available for questions. Once a semester, every student should visit his or her mentor. Whether it's about going abroad, applying for the master's degree or looking for a job, the mentors are happy to help.
The system design project with robot competition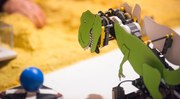 As part of the 'System Design Project', the Faculty of Engineering at the University of Freiburg organizes a robotic competition every year. In this competition first semester students compete for the title of the fastest, most innovative and most creative robot. Usually groups of four Students work together, but for WS20/21 an easier task will have to be solved by each single student. Unfortunately, due to the COVID-19 circumstances, there will be no joint competition and students will be evaluated separately.
Equipped with a nearly 350 € Lego robot kit, the students compete against each other in the task to build a vehicle that independently runs on a course unknown to the participants. In the run-up only the degree of difficulty of the route, such as track length and gradients, is known.
In WS19/20, the participants had to overcome the following challenge: their robots should complete a course as quickly as possible. They had to stop in front of a barrier where they were loaded with a ball, which had to be placed at the end of the train in a container. In addition, the robots were to turn in front of obstacles or push them out of the way.
Information for students
Overview with the most important information for first-year students.