Computer Science Bachelor polyvalent (as double major degree for a teaching education or with individual elective area)
As a school subject at grammar schools throughout Baden-Württemberg, computer science is undergoing a rapid development: from the introductory basic course "Media Education" in grade 5 to a compulsory advanced course "Computer Science" in grade 7 to the design of a new profile subject "Computer Science, Mathematics, Physics" (IMP), which can be chosen as an alternative to the already existing profile subject "Science and Technology" (NwT) - in future, teachers with the appropriate qualifications will be needed everywhere.
If you wish to pursue a teaching degree in computer science, you should select the so-called "polyvalent double major bachelor's degree program with a teaching education option". That means you will study computer science and a second subject simultaneously and can then decide whether:
You wish to become a teacher, in which case you would have additional modules in didactics (in computer science and a second subject) and educational sciences; or
You decide that teaching is not for you. Then you have the option to hone your skills individually in both subjects.
Prerequisites
University entrance qualification (e.g. Abitur)

Participation in an orientation test (For grammar school teachers, we recommend the Baden-Württemberg teacher test at 

www.bw-cct.de)
For a successful computer science degree, fun with technology, mathematics and solving problems are good prerequisites. For the teaching profession you should bring joy in dealing with people and the willingness to develop your pedagogical competencies.
Facts and Figures
Total Credits:

180 ECTS 

points

Standard Length of Studies:
6 semester


resp.

 3 years

Language of Instruction

:

German and English

Start of Courses:

Winter semester
(October)
Fees and Costs
German and European nationals

103 € fee for the Studierendenwerk (student organization)
70 € administrative fees
7 € student union fee

Total: A 180 € fee per semester to be paid to the University.

 

Non-EU nationals

1500 € tuition
103 € fee for the Studierendenwerk (student organization)
70 € administrative fees
7 € student union fee

Total: A 1680 € fee per semester to be paid to the University.

 
Application
Is this course of study a good fit? 


Take the "baden-württembergischen Lehrertest" or take our online orientation test.

Application

:

Central 

online application

Admissions:




 

First semester: without special admission requirements (admission-free)

Higher semesters: with special admission requirements according to the admission regulations

Application Deadline:



First semester: June 10th  – October 6th

Higher semesters: June 10th  – October 6th  (winter semester), December 1st  – April 6th  (summer semester)

Faculty affiliation:

 
Faculty of Engineering
Study material and curriculum
The previous teaching degree program was transferred to a Bachelor / Master structure for the 2015/16 winter semester throughout Baden-Württemberg. New students who want to pursue a teaching degree for grammar schools in computer science now have to apply in Freiburg for the so-called polyvalent two-subject Bachelor. In addition to the subject of computer science, another subject must be chosen. After completing the Bachelor's degree program, the teaching degree program continues with the Master of Education degree program
The subject in which the final thesis is written determines the name of the degree at the end (Bachelor of Arts or Bachelor of Science). If you write a thesis in computer science, you receive a "Bachelor of Science".
The bachelor's degree program geared toward teaching encompasses two academic subjects that are studied equally. You can receive an overview of the subject catalogue on the website of the School of Education "Freiburg Advanced Center of Education" (FACE):
https://www.face-freiburg.de/studium-lehre/vor-studium/angebot-uni/#faecher-uni 

The double major bachelor's degree program is "polyvalent", which means you have two options from the very beginning:
Option Teacher Education for Gymnasium: For the transition to the Master of Education (M.Ed.), you will study subject-specific didactics and educational sciences in addition to the two subject areas and complete a three-week orientation internship.
Option individual study design: In case you should decide against the teaching profession during your studies, you will be preparing for a master's degree program (M.A./M.Sc.) by taking so-called occupational field-oriented competences (BOK); additionally, you can deepen your specialization and interdisciplinarity.
The following image (sorry, it's German only) provides a compact overview of both options:
The following table provides an overview of how the individual study areas for the computer science parts are distributed over the six semesters of the standard period of study:
[in German only, due to German based study program]
Semester 1

Semester 2

Semester 3

Semester 4

Semester 5

Semester 6

Programmieren und praktische Informatik

 

ggf. Bachelorarbeit

Technische Informatik und Systeme

ggf. Fachdidaktik

 

 

Theorie und Vertiefung

 

Informatik, Mensch, Gesellschaft

 

Informatik, Mensch, Gesellschaft
An examplary study plan/curriculum for B.Sc. Informatik/Computer Science (Teaching Education) PO 2018 (PDF) offers more detailed information.
[in German only, due to German based study program]
Module handbook and exam regulations
Please note: Only the latest versions are listed here. Older versions can be found in Module Handbooks and Exam Regulations under Studies and Teaching.
Interdisciplinary information regarding organization and study program can be found on the websites of the Freiburg School of Education (FACE) for the polyvalent double major bachelor's degree program. [German only]
Please check out our dates and deadlines for course registration or exam registration.
And afterwards - Our Master degree programs
Master of Education Informatik (German only)
The teacher-specific master's program comprises two academic subjects that are studied on an equal basis; find out more on the website of the  School of Education FACE: https://www.face-freiburg.de/studium/studienangebot/studienangebot-uni-master/ 
In addition, the Master of Education has a strong focus on pedagogical / educational science concepts and a school practice part.
The Master program in Computer science in Freiburg offers the opportunity either to choose a wide range of lectures from different topics to create your own individual skills profile, or to specialize in one of the following areas:
Artificial Intelligence:
e.g. Robotics and autonomous intelligent systems, artificial intelligence and machine learning, image processing and computer graphics
Cyber-physical systems:
e.g. Verification and analysis of hardware and software systems, software development and programming languages, embedded systems
Possible occupational fields
After successfully completing your Master of Education you can begin your teaching training to instruct future generations of students in your chosen subjects.
But even beyond a teaching career, you have many career options with the polyvalent Bachelor of Science in computer science (and on other subject).
Academic advising
Questions about your course of study? Looking to be informed personally about the polyvalent Bachelor in Computer Science? Contact us directly:  
Testimonials
Because this degree program is very new, we do not have any graduate testimonials yet. The current students pursuing a teaching degree emphasize the great combination between the basics and practice-oriented classes. In the very first semester, the program allows you to explore the school environment during the orientation internship. However, the combination of two equal subjects can sometimes lead to organizational challenges in everyday student life.
Students who are not pursuing a teaching degree appreciate the flexible possibility of combining computer science with another equivalent subject, thus giving the study an individual touch.
Particularities about this course of study
The system design project with robot competition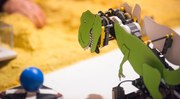 As part of the "System Design Project", the Faculty of Engineering at the University of Freiburg organizes a robotic competition every year: first semester students work in groups of four for the title of the fastest, most innovative and most creative robot.
Equipped with a nearly 250-euro Lego robot kit, the students compete against each other in multidisciplinary groups of four. The task is to build a vehicle that independently runs on a course unknown to the participants. In the run-up to the teams, only the degree of difficulty of the route, such as track length and gradients, is known.
In 2018, the participants had to overcome the following challenge: their robots should complete a course as quickly as possible. They had to stop in front of a barrier where they were loaded with a ball, which had to be placed at the end of the train in a container. In addition, the robots were to turn in front of obstacles or push them out of the way.
Smart, Micro, Green – Engineering in Freiburg
Smart – stands for robots that act independently, for computers that learn to interpret images or algorithms that become faster and smarter. Simply put, smart stands for computer science.
Micro – is meant literally here. The tiniest technical systems emerge that inconspicuously take on complex tasks in everyday life, medicine and industry. Without even knowing it, you are constantly dealing with microsystems. They make our lives healthier, safer, more comfortable, more versatile and, to say the least, easier.
Green – Freiburg is known worldwide for being the Green City. Since 2015, the Faculty of Engineering has been active from an engineering perspective with its own department for sustainability research. How can renewable energy be generated, fed into the grid and stored? How do we develop materials and systems that are produced and used in an energy- and resource-efficient way and that can adapt optimally to difficult environmental conditions or disasters?
Studying engineering in Freiburg always means that you benefit from all three areas of research, no matter which area you choose. Smart, micro and green technologies are becoming more and more in demand - acquire the necessary competencies to solve the social and technical questions of the future as engineers and computer scientists!
Further information
Information about the beginning of the semester: websites of the Freiburg School of Education (FACE) for the polyvalent double major bachelor's degree program. (German only)