Sports & Fun
You won't just find loads of space for research and teaching on our campus, but you also have room for leisure activities too.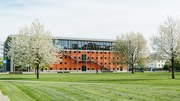 During the summer the sprawling green space between the institute buildings is popular for lunch breaks or for time spent after class. Frisbee, volleyball and cricket are often played here. Next to the lawn, you will also find a soccer field and a basketball court.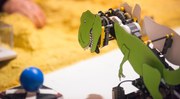 Students, staff members, professors and guests have a lot of fun during the annual robot competition. Our first-year bachelor students, organized in groups of four, fight for the title of having the fastest, most innovative and creative robot. The competition happens every year at the end of the winter semester (mid- to end of February).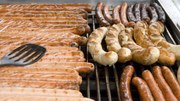 To celebrate the end of the semester, students, staff members and professors have lots of opportunity to mingle over mulled wine during Christmas lecture or at the summer barbeque during our faculty parties. Throughout the year the student council at the Faculty of Engineering offers game night, etc.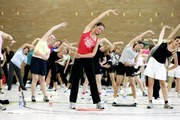 Want to try rock climbing, archery, pilates, swimming, hockey and much more? The university sports team at the University of Freiburg offers students and staff a comprehensive program.