Contact
Faculty of Engineering
University of Freiburg
Georges-Köhler-Allee 101
79110 Freiburg
Tel: +49 (0)761 203 8080
Email: dekanat@tf.uni-freiburg.de
How to get here
Adress:
Faculty of Engineering
University of Freiburg
Georges-Köhler-Allee 101
79110 Freiburg
> Google Maps: Technische Fakultät, Georges-Köhler-Allee 101, 79110 Freiburg
Travelling bei car:
From the A5:
Take the autobahn exit "Freiburg Mitte", towards Freiburg.
Leave the B31a at the exit in the direction of FR-Landwasser/FR-Betzenhausen/ Hochdorf / Nord/Messe/IKEA.
You are now on the Paduallee/Granadaallee. Follow this street until the exit Suwonallee (exit Stadion / Universität - Campus Flugplatz).
Keep left and follow Suwonallee until you see the signs "Parken 8/9". Turn right here. You will reach the central university parking lot of the Faculty of Engineering with its institutes after crossing Georges-Köhler-Allee.



From the city center:
Follow the B31a heading out of the city, leaving it at the turn-off marked "Uni-Kliniken". This will take you onto the Berliner Allee, heading towards the "Messe". The campus is located on the left, just before the Messe (Trade Fair Hall).
Parking:
There is a central parking lot on the campus of the Faculty of Engineering. This is centrally managed by the Parkraumgesellschaft Baden-Württemberg (https://www.pbw.de/) and there are corresponding parking ticket machines available. 
Travelling bei train:
ICE and InterCity trains run hourly on the railway line Basel – Freiburg – Offenburg – Karlsruhe – Mannheim – Frankfurt. Take a train to Hauptbahnhof Freiburg. At Hauptbahnhof Freiburg, take the tram or S-Bahn.
Travelling by plane:
From the international airports at Basel/Mulhouse/Freiburg, Strasbourg (F), Frankfurt am Main (D), Stuttgart (D) and Zürich (CH), the journey time to Freiburg is between 45 minutes and 2.5 hours.
Information about rail connections is available from the train company Deutsche Bahn
Public transport in Freiburg:
By tram:
From the Hauptbahnhof (central station), you can take the tram No. 4 (magenta colored) heading for "Messe" alighting at the station "Technische Fakultät".
By S-Bahn (suburban train):
From the Hauptbahnhof (central station), take the Breisgau-S-Bahn to Breisach. Alight at "FR-Neue Messe/Universität".

By Bus:
From Paduaallee or Gundelfinger Straße take bus line 10 alighting at the station "Technische Fakultät".
For further information about public transportation services in Freiburg, please visit the Regio-Verkehrsverbundes Freiburg (RVF) website. For information about hotels and tourism, please see the City of Freiburg's website: http://www.freiburg.de.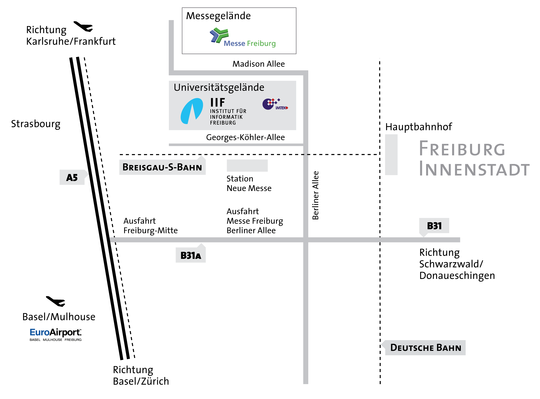 Beratungsstellen für Studieninteressierte und Studierende
Die Universität Freiburg und die Technische Fakultät bieten den Studierenden ein umfassendes Beratungsangebot. Anfangs ist es manchmal schwierig, einen Überblick zu bekommen, wer einem in welchem Fall weiterhelfen kann.
Alle wichtigen Ansprechpartner (wie die Fachstudienberatungen, Ansprechpartner für Masterbewerbungen oder das Prüfungsamt) finden Sie hier:
Studienberatung – Technische Fakultät

Contact Press and Marketing
For questions regarding press and public relations work, please contact the Office of Public Relations / Science Communication of the University of Freiburg: https://www.pr.uni-freiburg.de/contact